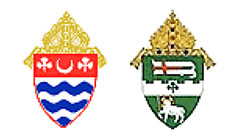 Group testing for the HSPT examination for eighth grade students applying for admittance to a Catholic high school in September, 2019, has ended. Students who have not taken the group examination should contact the school to which they are applying for information about any examinations that may be necessary.

HOME REPORTS

Home reports will be distributed January 7-9.
If the student attends a participating Catholic elementary school, home reports will be distributed to students by the school. All others, including all walk-in students, will receive reports by U.S. Mail. If you have not received the home report by January 11, contact
Scholastic Testing Service (STS) at 800-642-6787.


For sending results to additional schools not entered on the test answer document, click on the blue tab at the bottom of the page labeled "SENDING HSPT RESULTS TO ADDITIONAL SCHOOLS". There may be an additional charge for this service.
Online Application Registration Ends 10/24/2018

Registration Customer Service: 888-921-2667 Mon.-Fri. 8:30 a.m. - 8:30 p.m.
Email: support@njcoopexam.org


---