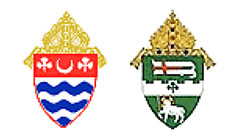 Archdiocese of Newark, in the counties of Bergen, Essex, Hudson, Union, and Rockland (NY)

Diocese of Paterson, in the counties of Morris, Passaic, and Sussex

Welcome to the njcoopexam.org Website for the Cooperative Admissions Examination Program.

The High School Placement Test (HSPT®) published by Scholastic Testing Service (STS®), will be the test used for the COOP 2017 administration. HSPT® Information is available at www.ststesting.com
Click on the Parents' Resource icon at the top right of the welcome screen.

COOP TEST DATE: Friday, Nov. 10, 2017 - 8:00 a.m. - 11:45 p.m.
MAKEUP EXAM: Saturday, Nov. 18, 2017 - 8:00 a.m. - 11:45 p.m.

EXTENDED TIME APPLICATIONS MUST BE RECEIVED BY OCTOBER 13. NO EXCEPTIONS

Registration is available only online. Please click on and read the Student Handbook and Frequently Asked Questions below before registering. If you have questions about registration (including Extended Time Accommodation and Ninth Grade Applicant Record) send an email to support@njcoopexam.org or call 888-921-2667. Applications for extended time must be sent directly to the Diocese office listed on the application. Do not send applications to NJCOOPEXAM or STS®.

General Information and Purpose (coming soon)
2017 Flyer Announcement - English (coming soon)
2017 Flyer Announcement - Spanish (coming soon)
Student Handbook (coming soon)
Online Application Registration Available September 1, 2017
Ninth Grade Applicant Record and Instructions (coming soon)
Eligibility Form for Students Needing Extended Testing Time (coming soon)
Calendar of Events (coming soon)
Frequently Asked Questions (coming soon)

Registration Customer Service: 888-921-2667 Mon.-Fri. 8:30 a.m. - 8:30 p.m.
Email: support@njcoopexam.org



---