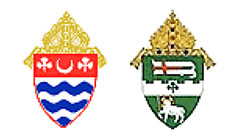 Archdiocese of Newark, in the counties of Bergen, Essex, Hudson, Union, and Rockland (NY)

Diocese of Paterson, in the counties of Morris, Passaic, and Sussex

Welcome to the njcoopexam.org Website for the Cooperative Admissions Examination Program.

The November 10, 2017 COOP/HSPT® administration and the November 18, 2017 makeup administration were the last large group administrations for the school year. Students applying to participating Catholic high schools who have not taken the group tests should call the school to which you are applying to determine testing and other application requirements.

Please see the Important Dates tab below for information on test results distribution.

The High School Placement Test (HSPT®) published by Scholastic Testing Service (STS®) was used for the large group administrations. Information is available on the website, ststesting.com. Click on the Parents' Resource icon at the top right of the welcome screen.

The COOP office can send reports to a maximum of three participating schools listed in the Student Handbook. Reports for schools not on the list, additional schools above the limit of three, or for any other reason, must be requested by the school by calling Linda Kaspar, Archdiocese of Newark,
at (973) 497-4264. Only schools can request scores from the Archdiocese.

You must call the school requesting the scores and ask them to call Linda Kaspar. There is no additional fee for this service.
Online Application Registration Ended 10/25/2017

Registration Customer Service: 888-921-2667 Mon.-Fri. 8:30 a.m. - 8:30 p.m.
Email: support@njcoopexam.org



---