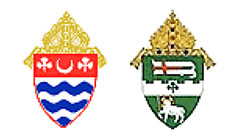 Archdiocese of Newark, in the counties of Bergen, Essex, Hudson, Union, and Rockland (NY)

Diocese of Paterson, in the counties of Morris, Passaic, and Sussex

This page will contain the latest updated information about the COOP/HSPT administration.

The Cooperative Admissions Examination Program (COOP) will be using the High School Placement Test (HSPT®) for the 2022 administration.
Content information about the High School Placement Test (HSPT®) is available on the Web site STSTESTING.COM. Click on the Parents' Resource icon at the top right corner of the welcome screen.

Date: Friday, November 11, 2022 (8:00 a.m. – 11:45 a.m.)
Extended Time (8:00 a.m. – 1:00 p.m.)

Make-up examination: Saturday, November 19, 2022 at selected locations (same times).

Online registration begins September 1, 2022.

Click on the active blue links below for current information, documents, and online registration.
Online Application Registration (Opens 09/01/2022)

Customer Service: 888-921-2667 Mon.-Fri. 8:30 a.m. - 8:30 p.m.
Email: support@njcoopexam.org


---